TCF (Test de connaissance de Français)

WE ARE THE ONLY ACCREDITED CENTER FOR THE TCF CERTIFICATE (TEST DE CONNAISSANCE DU FRANÇAIS) IN THE ROCKY MOUNTAINS REGION.


We offer the following TCF Exams. Please see details below:
TCP TP

(Tout public / All audiences)

TCF IRN

(Intégration, Résidence et Nationalité)

TCF Canada

TCF QC

(Québec)

TCF DAP

(Demande d'Accès Préalable)
The Test de Connaissance du Français (TCF), is a French language proficiency test for non-native speakers of French who wish to evaluate and have their level of proficiency certified for professional, academic or personal reasons.
The purpose of TCF Program certification is to assure that instructors demonstrate the skills and knowledge necessary to teach all program elements accurately and effectively. During the certification process, you demonstrate movement and verbal communication skills and create written handouts for teaching the program.
TCF TP, IRN and Canada dates:
May 16, 2022 (register before April 19, 2022)
June 21, 2022 (register before May 30, 2022)
July 11, 2022 (Canada only) (register before June 14, 2022)
July 25, 2022 (TP and IRN only) (register before June 27, 2022)
August 22, 2022 (register before July 25, 2022)
September 26, 2022 (register before August 30, 2022)
October 24, 2022 (register before September 27, 2022)
November 28, 2022 (register before October 30, 2022)
December 5, 2022 (register before November 7, 2022)
Important information:
For the TCF IRN and TCF Canada, we can only hold 1 session per month.
For other TCF exams (QC or DAP), call or email us your registration and let's talk about possible dates !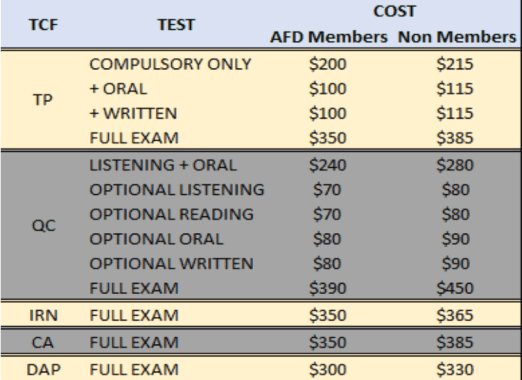 STEPS TO REGISTER:
Download and fill in the Registration Form below, and send it to reception@afdenver.org
We will send you a payment link to finalize your registration as soon we received your completed registration form. You can also call us at 720-568-9976 during business hours to pay for your exam registration. No registration is complete until we receive payment.
CLICK HERE TO DOWNLOAD THE REGISTRATION FORM CLICK HERE TO DOWNLOAD THE REGISTRATION FORM
Payments must be made in full at the time of registration. No refund will be made or credit given, under any circumstances once the registration is processed, unless the AFD must cancel a session (in which case you will be fully refunded).
Please allow three to four weeks between your registration and the date of your exam.


Contact Us
Alliance Française de Denver
206 Red Cross Way
Denver, CO 80230
Phone: +1 (720) 568-9976
Email : reception@afdenver.org



WHAT OUR MEMBERS ARE SAYING
I'd like to start this off by thanking you for teaching me so much French. You were a great teacher and you helped me learn so many new things. I'd also like to apologize for missing a lot of lessons, although I'm sure that I would've rather gone to them. Again, you are the best teacher I've ever had, and it's sad to say goodbye to you.
Lir M.
Alliance Française de Denver created a wonderful virtual environment where I spent my Summer vacation; visiting the winemaking area of Bouzy; celebrating Bastille Day; learning how to cook with flowers; touring historic châteaux and beautiful villages; all in the safety and comfort of my home.

A real treat for any Francophone person; especially having a daily place for French chat to try out and maintain colloquial skills.
Stephen G.
Anne is fantastic! The material is fast paced for this "old dog" to learn new tricks, but we could not go slower. It has been very helpful to prepare me for my trip to France.
Sue T.
A great place to learn and practice French while getting acquainted with French culture and interesting people. I definitely recommend AFD and their events. Je parle français! Et vous?
Cristina G.