Library
A FRENCH LANGUAGE MULTIMEDIA LIBRARY IN THE HEART OF DENVER
Open during AFD office hours, our library is the perfect place to read and study in a quiet environment. It is located on the first floor, next to classroom 2 by the door to the patio.
LIBRARY HOURS
M-Th: 9:00 AM to 6:00 PM
F: 9:00 AM to 5:00 PM
Sa: 9:00 AM to 12:00 PM
Su: Closed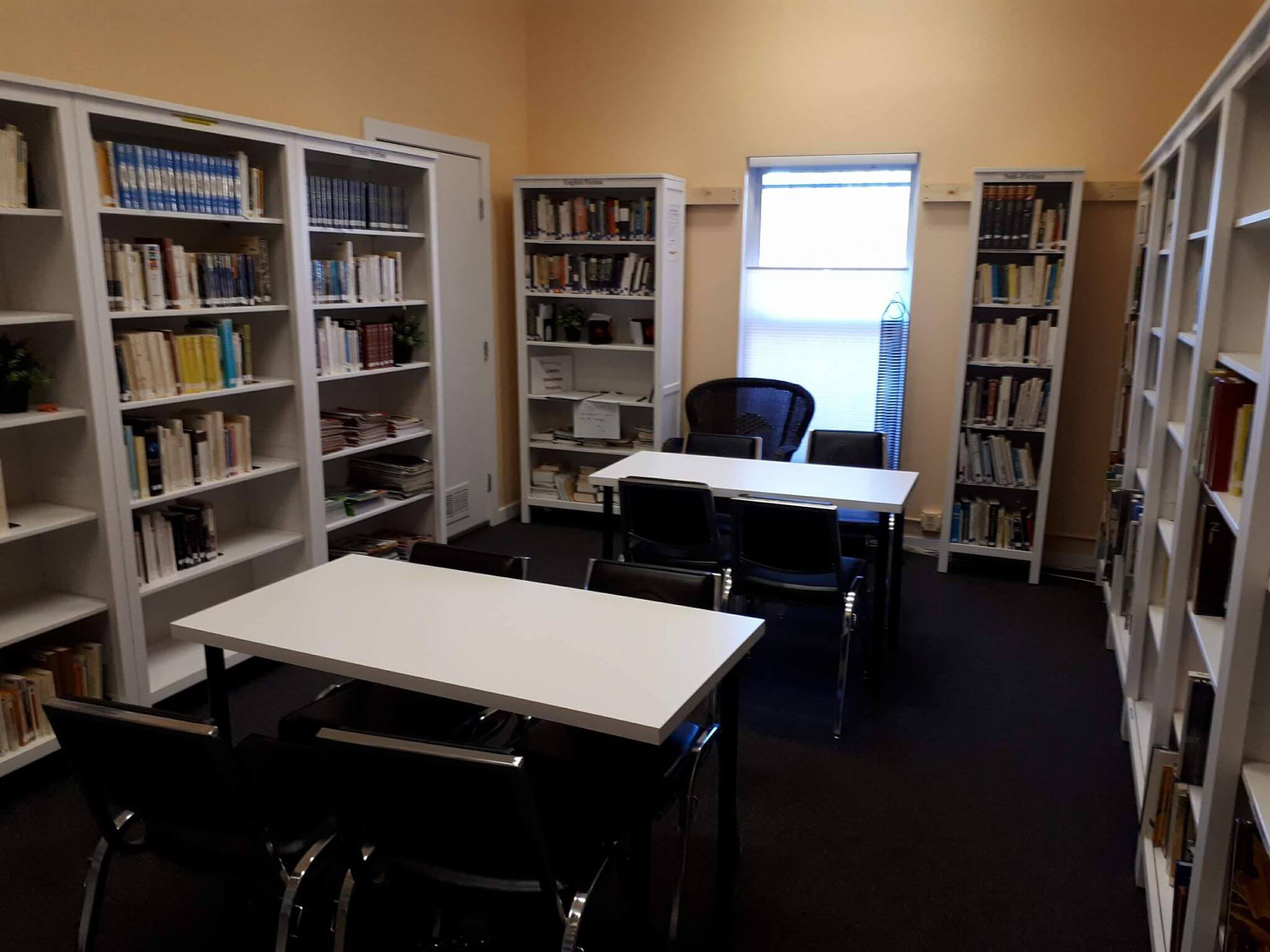 EASY ACCESS TO OUR CATALOG
You can access the AFD library catalog conveniently online for easy browsing.
Just type in "Alliance Francaise" in the library name field (no other password is needed.)
Search for books you are interested in.
Come visit our library to retrieve them.
MATERIALS DONATIONS
We gladly accept donations, in french only, for:
Books for kids and teenagers
Books for Adults that have been published and/or printed in the last five years. Due to the limited size of our library we are unable to accept books older than 5 years.
DVDs (Zone 1)
CDs
French language board games (containing all the pieces)
KIDS LIBRARY
Alliance Française de Denver members have free access to our kids library. This library is located on the first floor in the Children's Classroom. We have children's books for infants to teens. Picture books, short novels, comic books and educational learning tools are all available en français! A small collection of kids DVDs are located along with our other DVDs in the reception area.
COLOR CODED BY AGE LEVEL
In the Kids Library all the books are color coded by age and reading level. Look for the circle stickers on the spines of the books.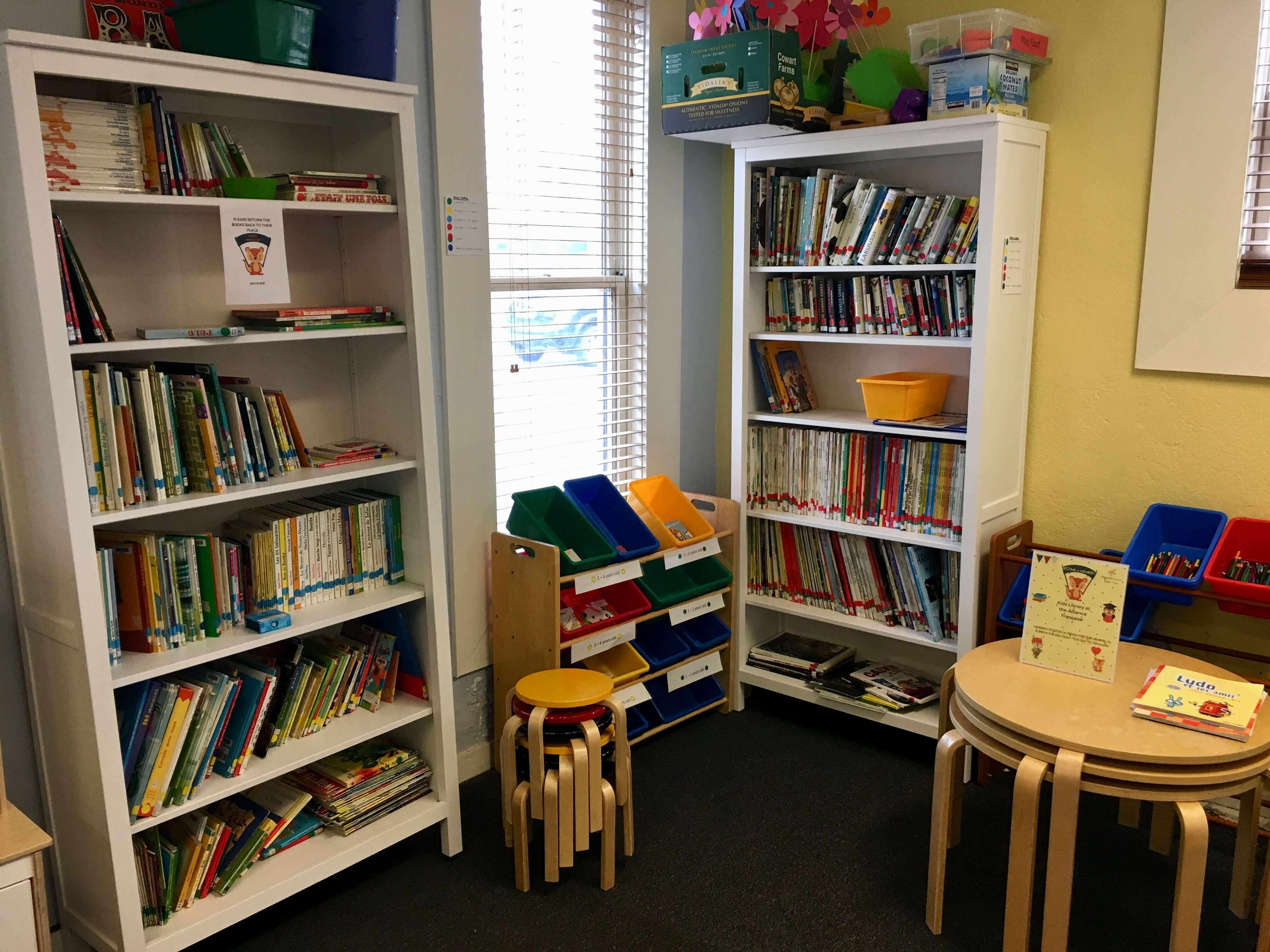 ---
AN AFD MEMBERSHIP BENEFIT
As a member of the Alliance Française de Denver, you have free access to our French library consisting of over 5,500 books, movies, CDs and board games.
GENERAL LIBRARY PROCEDURES
Up to 7 books or magazines can be checked out at one time, for up to 4 weeks.
2 audio/video materials or games can be checked out for up to 1 week.
Overdue materials will be charged $0.10 per item per day. Overdue fines must be paid before continuing to use the library.
A convenient book drop, located to the left of our main office front door, is available to return items outside of our regular business hours.
---
CULTURETHÈQUE USA: OUR ONLINE MULTIMEDIA LIBRARY
Culturethèque: A free online library to immerse yourself in the French language.


AN AFD MEMBERSHIP BENEFIT
We are proud to offer our free Culturethèque USA online digital library to members of the Alliance Française de Denver.
Conveniently accessed from your personal computer, tablet or smartphone, you can read French magazines as they hit newsstands, view concerts and shows, listen to lectures, read e-books and comics, enhance your language skills with materials tailored to your needs as well as introduce you children to French language and culture.
WHAT DOES THE CULTURETHÈQUE OFFER?
Over 400 magazines, 1,000 books, 200 comics, 300 videos and 370 learning materials.
24/7 access from your personal computer, tablet, or smartphone.
Materials for kids and adults alike!
WHAT CAN I VIEW?
Everything that Culturethèque offers:
Catch up on your favorite magazines' latest issues
View concerts and shows
Listen to lectures
Read e-books and comics
Give French cooking a try with many different cookbooks available
Take advantage of language-learning materials tailored to your needs
Introduce your kids to French with tailored cultural learning materials
HERE'S HOW IT WORKS
Subscribe today! Access to the Culturethèque is offered free of charge to the Alliance Française de Denver members.
Select French or English on top right-hand corner and click "Subscribe."
Create your login using your first and last name with no spaces as your user name (ie. janedoe.)
Be sure to select Alliance Française de Denver in the drop down menu.
This will start a 24-hour trial period.
Your membership will be confirmed and your account activated by the AFD staff. This last step usually takes one full business day.
NOUVEAUX LIVRES
Our new library pick of the month!
AGATHA CHRISTIE - LES INDISCRÉTIONS D'HERCULE POIVROT
"Richard Abernethie died suddenly at home from a heart attack. That's what the newspapers wrote. All the relatives rushed to the funeral and everything would have happened very well if this crazy Cora had stupidly asked: "It was well murdered, is not it? This incongruous question, of course, throws a cold into the family reunion.

Six or eight blows of the ax, the next day, on the skull of the talker, and a little arsenic stuffed into the cake of his lady companion, will justify the intervention of Hercule Poirot. His famous sense of deduction will prove that the innocent question of Cora was not so stupid...

A passionate thriller easy to read in French.



JULES VERNE - 20 000 LIEUES SOUS LES MERS
A sea monster, "a huge thing", having been reported by several ships around the world, an expedition is organized on the Abraham Lincoln, American frigate, to purge the seas of this disturbing monster. On board are the Frenchman Pierre Aronnax, a professor at the Paris Museum, and Conseil, his faithful servant. The monster turns out to be a fabulous submarine, the Nautilus, designed and commanded by a strange character, Captain Nemo, who seems fiercely hostile to all humanity!

A French classic.

GILLES LEGARDINIER - DEMAIN J'ARRÊTE !



At first, it was because of her funny name that Julie became interested in her new neighbor. But soon, there was everything else: his charm, his look, and everything he seems to hide ... Because she wants to know everything about Ric, Julie will take more and more delirious risks...

A fun book easy to read.
WHAT OUR MEMBERS ARE SAYING
"Anne is fantastic! The material is fast paced for this "old dog" to learn new tricks, but we could not go slower. It has been very helpful to prepare me for my trip to France."