TCF (Test de connaissance de Français)

The Test de Connaissance du Français (TCF), designed by the CIEP (Centre international d'études pédagogiques) and accredited by the French Ministry of Education, is a French language proficiency test for non-native speakers of French who wish to evaluate and have their level of proficiency certified for professional, academic or personal reasons.
WE ARE THE ONLY ACCREDITED CENTER FOR THE TCF CERTIFICATE (TEST DE CONNAISSANCE DU FRANÇAIS) IN THE ROCKY MOUNTAINS REGION.
We offer the following TCF Exams. Please see details below:
TCP TP

(Tout public / All audiences)

If you are interested in

TCF DAP

(Demande d'Accès Préalable), choosee TP and add the writing section
TCF IRN

(Immigration, Residence, Nationalité

TCF Canada
In 2023, we will offer TCF exams once per month. We will not offer TCF exams in January, April, August, or December. If you plan to take a TCF exam, your registration form and payment must be completed by the registration deadline!
France Education International no longer ships printed copies of results. Results will be sent approximately 30 days after the exam.

See pricing and Steps to Register below.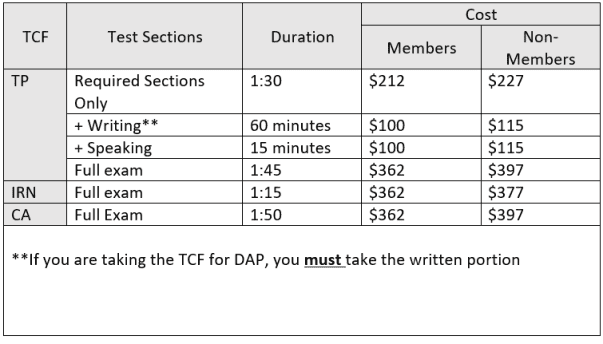 STEPS TO REGISTER:
1. Complete the registration form and email it to reception@afdenver.org .
Include a passport style photo with your registration. For TCF Canada, please add a copy of your passport.
2. Pay for your exam to confirm your registration.
You can call us at (720)-568-9976 during business hours to pay for your exam registration. Shipping is included in the cost of the test. Once received in our premises, we will mail your certificate to the address you provide on your registration form.
No registration is complete until we receive payment.
Payments must be made in full at the time of registration. No refund will be made or credit given, under any circumstances once the registration is processed, unless the AFD must cancel a session (in which case you will be fully refunded).
Please allow three to four weeks between your registration and the date of your exam.




WHAT OUR MEMBERS ARE SAYING
I'd like to start this off by thanking you for teaching me so much French. You were a great teacher and you helped me learn so many new things. I'd also like to apologize for missing a lot of lessons, although I'm sure that I would've rather gone to them. Again, you are the best teacher I've ever had, and it's sad to say goodbye to you.
Lir M.
Alliance Française de Denver created a wonderful virtual environment where I spent my Summer vacation; visiting the winemaking area of Bouzy; celebrating Bastille Day; learning how to cook with flowers; touring historic châteaux and beautiful villages; all in the safety and comfort of my home.

A real treat for any Francophone person; especially having a daily place for French chat to try out and maintain colloquial skills.
Stephen G.
Anne is fantastic! The material is fast paced for this "old dog" to learn new tricks, but we could not go slower. It has been very helpful to prepare me for my trip to France.
Sue T.
A great place to learn and practice French while getting acquainted with French culture and interesting people. I definitely recommend AFD and their events. Je parle français! Et vous?
Cristina G.